โมเลกุลของสารประกอบที่ใช้ในเครื่องสำอาง: บาคูชิออล (Molecules for cosmetic purposes: Bakuchiol)
บทความทางด้านเคมี (Chemistry-Articles)
หัวข้อเริ่มต้น
04/08/2023 5:19 pm
บาคูชิออล (Bakuchiol) เป็นสารที่ถูกสกัดจากธรรมชาติครั้งแรกจากต้น Bakuchi (ชื่อทางวิทยาศาสตร์: Cullen corylifolium L.) จากทีมนักวิทยาศาสตร์ของสถาบัน the Indian Institute of Chemical Technology (IICT) ประเทศอินเดีย โดยโมเลกุลของ บาคูชิออล ถูกจัดอยู่ในกลุ่ม Meroterpenoid โดยโครงสร้างโมเลกุลดังรูปที่ 1 (1)  ซึ่งประกอบด้วย 2 ส่วนหลัก คือส่วนของฟีนอลิก (phenolic) ซึ่งต่อกับส่วนของเทอร์พีน (terpene) การที่มีส่วนของแอลเคน (alkane) ที่ยาวของเทอร์พีนทำให้โมเลกุลของบาคูชิออล มีความเป็นไฮโดรโฟบิก (hydrophobic) คือไม่ชอบน้ำ ทำให้บาคูชิออลละลายน้ำได้น้อย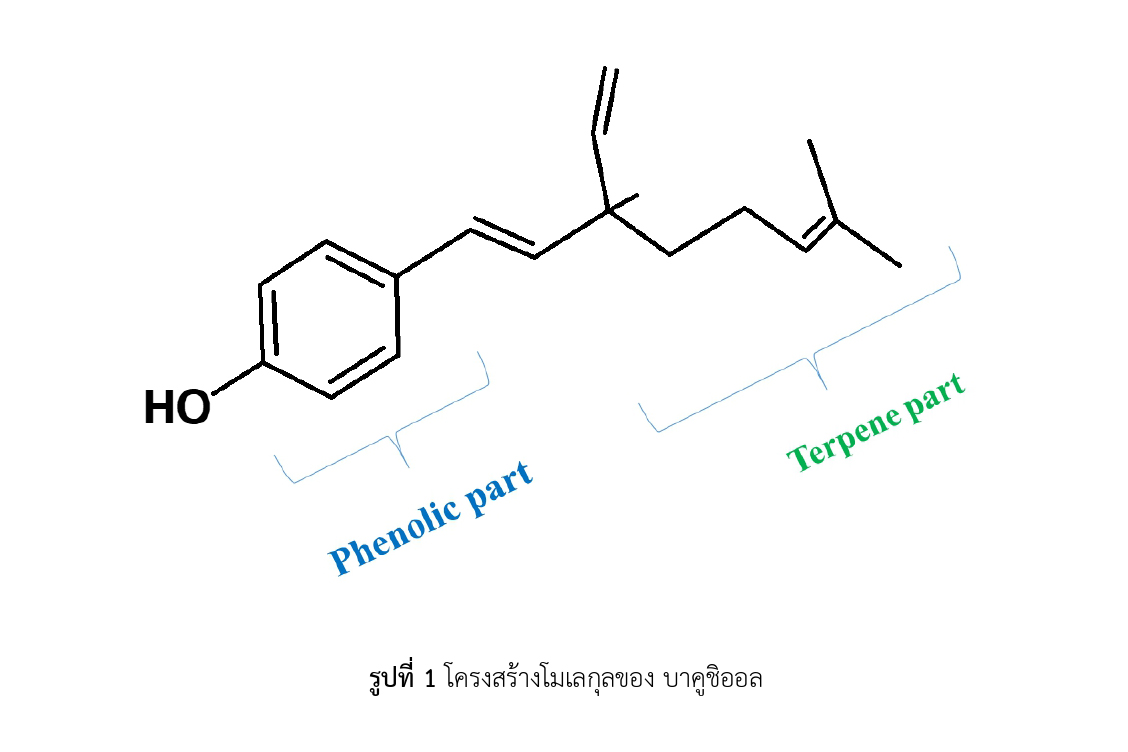 รูปที่ 1 โครงสร้างโมเลกุลของ บาคูชิออล
บาคูชิออล มีคุณสมบัติการยับยั้งอนุมูลอิสระที่ดีเนื่องจากโมเลกุลของสารประกอบนี้มีคุณสมบัติเป็นตัวให้ hydrogen และ electron กับอนุมูลอิสระ (free radical) ที่ดี เพื่อให้อนุมูลอิสระเปลี่ยนเป็นสารประกอบที่เสถียร และโครงสร้างของบาคูชิออลเกิดเป็น radical ที่อิเล็กตรอนสามารถ delocalize ในโครงสร้าง aromatic ได้ดีทำให้โมเลกุลมีความเสถียร (รูปที่ 2)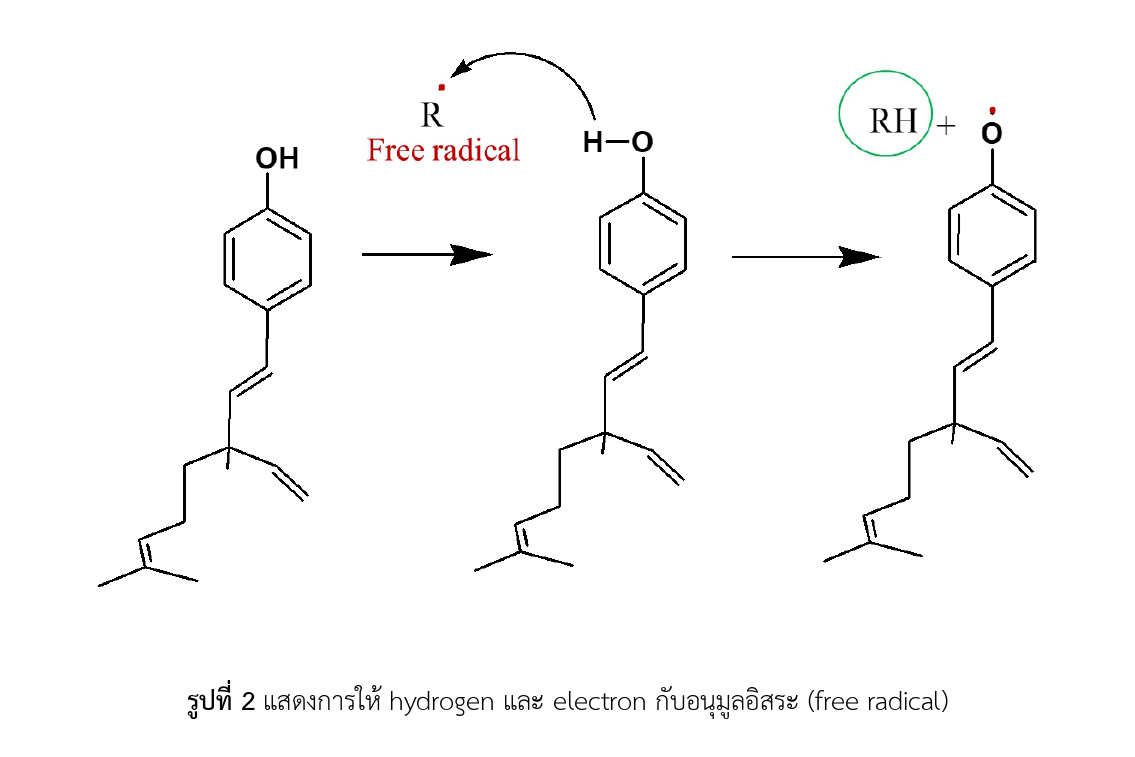 รูปที่ 2 แสดงการให้ hydrogen และ electron กับอนุมูลอิสระ (free radical)
จากคุณสมบัติดังกล่าวบาคูชิออล ถูกนำมาใช้ในเครื่องสำอางหลายชนิด ที่มีฤทธิ์ต่อต้านอนุมูลอิสระ มีส่วนช่วยทำให้ผิวนวล ช่วยปรับสภาพผิว เป็นสารต้านจุลชีพ และมีคุณสมบัติต้านการเกิดสิว(2) นอกจากนี้ยังพบว่า บาคูชิออล มีฤทธิ์ทางชีวภาพเหมือนเรตินอล คือช่วยลดเลือนริ้วรอยและรอยดำ โดยกระตุ้นการสังเคราะห์คอลลาเจนในไฟโบรบลาสต์ที่โตเต็มที่และควบคุมยีนที่เกี่ยวข้องกับเมทริกซ์นอกเซลล์ และการบำรุงรักษารอยต่อของผิวหนังชั้นนอก(3) ด้วยเหตุนี้ บาคูชิออล ซึ่งเป็นสารสกัดจากธรรมชาติ จึงถูกนำมาใช้เป็นทางเลือกแทน เรตินอล โดยสามารถทนต่อแสงได้มากกว่าและระคายเคืองน้อยกว่าเรตินอล และมีการใช้กันอย่างแพร่หลายในเครื่องสำอางต่างๆ  โดยจากการวิเคราะห์ข้อมูลโดยใช้ google trend ตั้งแต่ปี 2004-2023 ในหมวด Beauty & Fitness พบว่าความสนใจของคนทั่วโลกเพิ่มขึ้นอย่างรวดเร็ว ตั้งแต่ปี 2019 เป็นต้นมา ซึ่งอาจกล่าวได้ว่า บาคูชิออล เป็นสาร active ingredient ตัวใหม่ในวงการเครื่องสำอางที่ได้รับความสนใจมากขึ้นอย่างรวดเร็ว และจะเป็นสารสกัดธรรมชาติที่จะมีการนำมาใช้อย่างในเครื่องสำอางมากขึ้นเรื่อยๆในอนาคต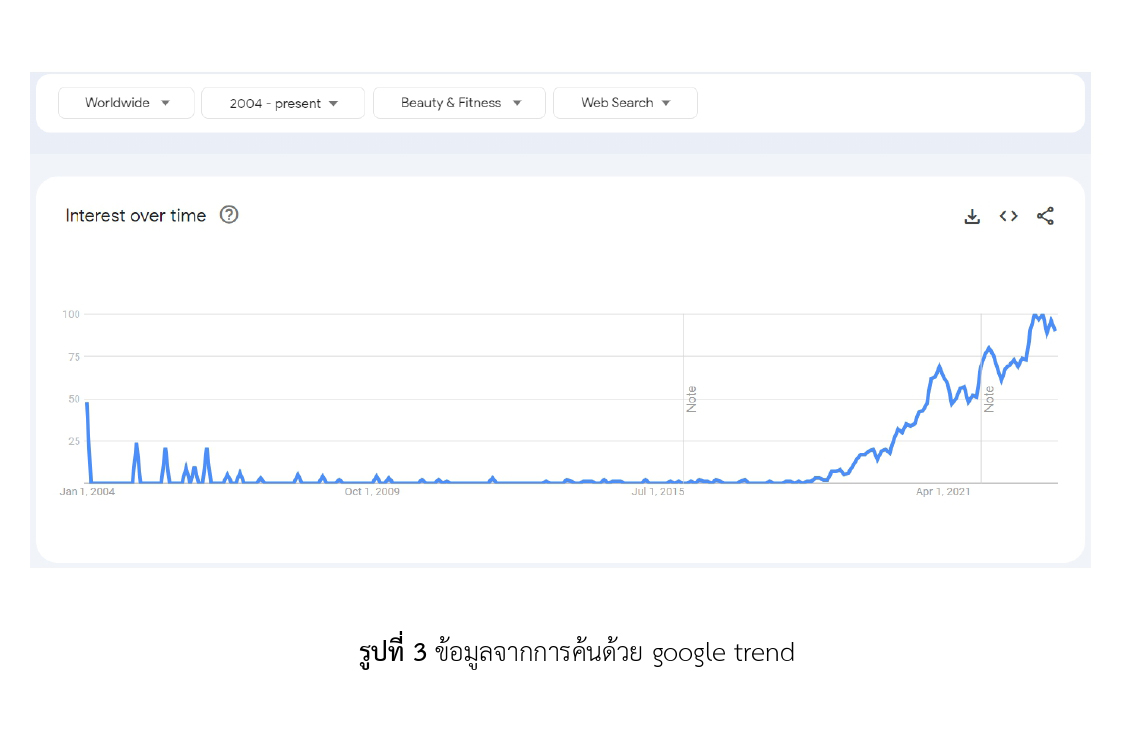 รูปที่ 3 ข้อมูลจากการค้นด้วย google trend
ผศ.ดร. ภิรมย์ เชนประโคน
Reference:
Krishna, T. A., Edachery, B., & Athalathil, S. (2022). Bakuchiol–a natural meroterpenoid: structure, isolation, synthesis and functionalization approaches. RSC advances, 12(14), 8815-8832.
Poláková, K., Fauger, A., Sayag, M., & Jourdan, E. (2015). A dermocosmetic containing bakuchiol, Ginkgo biloba extract and mannitol improves the efficacy of adapalene in patients with acne vulgaris: result from a controlled randomized trial. Clinical, Cosmetic and Investigational Dermatology, 8, 187.
Chaudhuri, R. K., & Bojanowski, K. (2014). Bakuchiol: a retinol‐like functional compound revealed by gene expression profiling and clinically proven to have anti‐aging effects. International journal of cosmetic science, 36(3), 221-230. 
1,036,245 views since 16 August 2018